Jessica Kourniakti
2012-present: DPhil candidate Modern Greek (University of Oxford)
2010-2011: MA Reception of the Classical World (UCL) 
2007-2010: BA Ancient History (University of Bristol)
Research
Title: The Classical Asset: Hellenism, Developmentalism and Power under the the Greek Military Dictatorship of 1967-74
My thesis converges around some of the most notoriously archaeocentric discourses, spectacles and projects associated with the Greek military dictatorship of 1967–1974, and seeks to place them in context. In so doing, I aim to contribute a new perspective on the regime's interpretations and representations of classical antiquity, which I view as largely conditioned by a postwar reappraisal of classical culture and by contemporary cultural politics in Greece. By departing from a tradition in scholarship to bracket off the dictatorship's aesthetics of reception as an isolated case of sorts, I argue that it was precisely these precedents that informed and motivated 'the Aprilians'' own participation in hegemonic genealogies of appropriation. Correspondingly, I argue that the dictatorship looked upon classical culture as a serviceable 'asset', in light of its articulations with power, capital and synchronisations with the West.
Supervisor: Associate Professor Dimitris Papanikolaou  
Publications
'From Fascist Overload to Unbearable Lightness: Recollections of the Military Junta as Kitsch in Post-Dictatorial Greece', forthcoming in Journal of Modern Greek Studies, 35.2 (2017). 
Book Review: Otan Grafei to Molyvi: Politiki Via kai Mnimi Sti Synhroni Elliniki kai Italiki Pezografia/Inscribed in Lead: Political Violence and Memory in Contemporary Greek and Italian Prose), Vassiliki Petsa (2016), Journal of Greek Media and Culture, 3.1 (2017), 131-133. <https://www.academia.edu/32964380/Book_Review_Inscribed_in_Lead_Political_Violence_and_Memory_in_Contemporary_Greek_and_Italian_Prose_Vassiliki_Petsa_2016_> 
Conferences
'The Past of Development: Classical Antiquity and the Ideology of the Dictatorship of 21 April', Ninth International Graduate Student Conference in Modern Greek Studies, Princeton University, Princeton NJ, May 2017. 
'Failures in Transgression and the Culture of the Neohellene in OYK an lavois para tou mi echontos (2010-2011)', Hi/Stories in Contemporary Greek Culture: The Entanglements of History and the Arts since 1989 (workshop), University of Copenhagen, Copenhagen, June 2016.
'Rebuilding the Colossus of Rhodes in the 1960s: Greek-American Identity Landmark or Tourist Attraction?', Society for Modern Greek Studies Graduate Research Colloquium, King's College London, London, June 2015.
'Cultural Offenders: Receptions of the Greek Military Junta as 'kitsch' in the Greek Press since 1974, The Colonels' Dictatorship and its Afterlives (workshop), Columbia University, New York, April 2015.
'Vasanizomai: From a Message of Agony Inscribed on the Walls of Athens, to Internet Sensation', Diversity in 20th and 21st-Century Greek Popular Culture(s) and Media (student-led workshop under the auspices of Society for Modern Greek Studies), University of Oxford, Oxford, March 2015.
'Golden Dawn: Appropriating Greek and Foreign Politics of Identity', Economic Crisis, Heritage and Identity in Europe (ECHIE): The Greek Case (workshop), University College London, London, July 2014.
'Alexander the Great in Education under the Dictatorship of the Colonels in Greece (1967-1973)', Society for Modern Greek Studies Graduate Research Colloquium, University of Birmingham, Birmingham, June 2014. 
Other Activities
Teaching Fellow in Modern Greek Literature (P/T), University of Oxford, September 2016–April 2017.
Administrator, Greece in Crisis: Culture/Identity/Politics (workshop), University of Oxford, March 2016. The Cultural Politics of the Greek Crisis Network Project, University of Birmingham and University of Oxford, an AHRC-funded networking project
Organiser and Convenor, Renegotiating History in light of the "Greek Crisis" (graduate student workshop), University of Oxford, March 2016. Student-led workshop organised under the auspices of the Sub-Faculty of Modern Greek, University of Oxford and the Society for Modern Greek Studies (UK), with the support of the Onassis Public Benefit Foundation
Organiser and Convenor, Diversity in 20th and 21st-Century Greek Popular Culture(s) and Media (graduate student workshop), University of Oxford,  March 2015. Student-led workshop organised under the auspices of the Society for Modern Greek Studies (UK), funded by The Oxford Research Centre in the Humanities (TORCH)
Seminar Participant, Michael Cacoyannis Foundation, Athens, Greece in collaboration with University of Jerusalem (2014); University of Leeds (2013); Stanford Summer Theatre (2012). Ancient Greek Drama: Influences and Contemporary Approaches
Member of Organising Committee, Cavafy Week, University of Oxford, June 2013. Week-long agenda of academic and public events to celebrate 150 years since the birth of C.P. Cavafy; organised by the Sub-Faculty of Modern Greek, University of Oxford with the support of the Greek Ministry of Culture and Onassis Public Benefit Foundation
Exhibition Research Assistant, Archive of Performances of Greek and Roman Drama (APGRD), Classics Centre, University of Oxford, April–May 2013. Identity and Community in Performance: Greek Festivals 1927–2012
Address:
Merton College
Merton Street
United Kingdom
Email:
jessica.kourniakti@merton.ox.ac.uk
18623101_120332000965065633_1184176143_n.jpg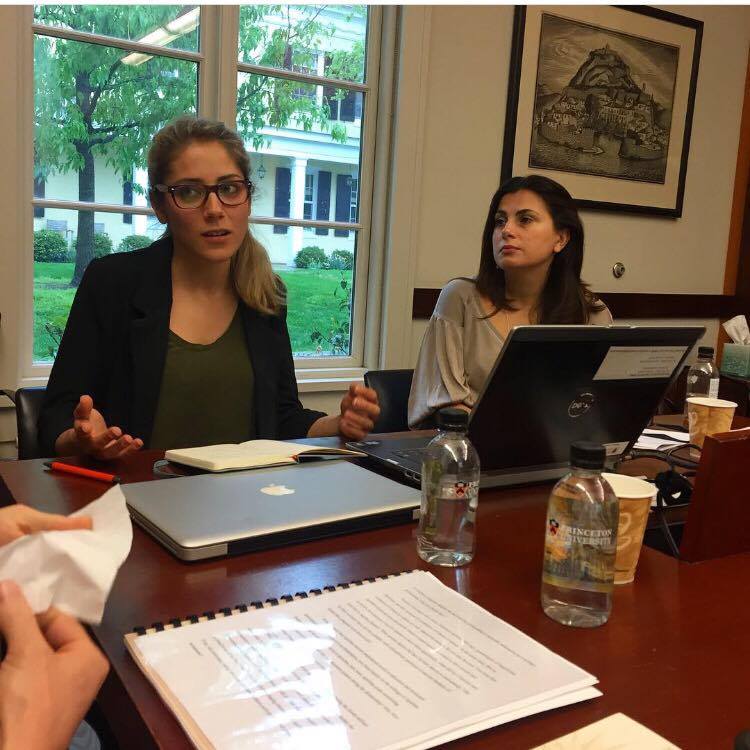 Department
Surname
Kourniakti
Research Topic:
Appropriations of classical antiquity under the Greek military dictatorship of 1967-74