Virtual Book Club
Our virtual book club launched in January 2018. Click on the image below to see a playlist of the episodes. If you would like to receive more information or a copy of the texts, or to sign up, please email us at schools.liaison@mod-langs.ox.ac.uk
Episode 1: Russian. An extract from Boris Pilnyak's Goly god (The Naked Year).
Episode 2: French. An extract from Suzanne Dracius's La Virago.
Episode 3: Italian. A poem by Patrizia Cavalli, 'Se io ora bussassi alla tua porta'.
Episode 4 will be on Portuguese.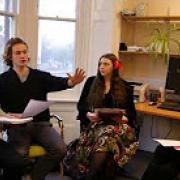 Literary Skills
We run an annual French masterclass in literary skills for sixth-formers in local state schools. However, if you are not based in Oxfordshire and would still be interested in some of the content of this masterclass, you might like to view our recorded introductions to some key literary features. These introductions give an overview of the skills covered during the masterclass.
Why Languages?
In January 2018, the Medieval and Modern Languages team  had the pleasure of meeting a group of Year 9 students from several schools across Oxfordshire for an afternoon of languages workshops. At the end of the afternoon, Dr Simon Kemp, who teaches French at Somerville College, gave us an overview of Modern Languages at university. If you are considering languages as an option at degree level, take a look below at Simon's presentation…