Creative Multilingualism in action: a multilingual concert
A specially commissioned choral piece performed by 500 schoolchildren from across Oxford
In June, Creative Multilingualism, a research programme led by Professor Katrin Kohl of the Faculty of Medieval and Modern Languages, held a multilingual concert with 500 schoolchildren from Oxford. The pupils performed a specially commissioned choral piece composed by Lin Marsh, called We are Children of the World.
The composition weaves in snatches of songs in Mandarin, Punjabi, Urdu, Arabic, Polish, Swahili and Portuguese. It aims to highlight Oxford's hidden multilingualism and celebrate the rich diversity of languages spoken in our schools and communities. The concert was organised in partnership with the Oxford Festival of the Arts.
The composition starts with the sun rising in China and a folk song in Mandarin about the fragrant jasmine flower, it then travels west through India and Pakistan, with songs in Punjabi and Urdu, over Lebanon, Kenya, Poland and finally ends in Brazil with a children's song in Portuguese.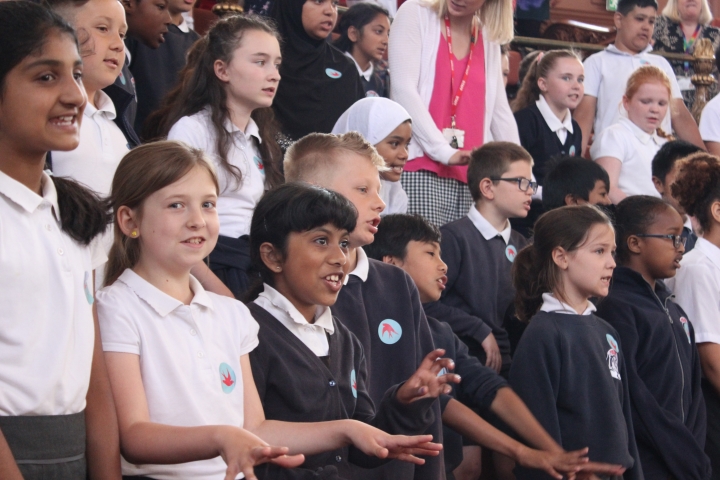 The languages which feature in the song were chosen because they are among the most common languages spoken in Oxford's schools and communities. By bringing the languages into the foreground, the project aims to encourage their speakers to share their languages and cultures with their friends and classmates. This in turn enables all the children to find out more about different parts of the world and the languages spoken there.
Feedback from teachers and parents involved with the project was overwhelmingly positive and many said the song helped start a conversation about the many languages spoken in their school. One teacher said that their pupils, "wanted to learn more about where the languages were spoken and find out what languages were spoken in our school. They researched the countries and languages, and wanted to learn greetings or other aspects of the languages". One of the pupils who took part in the concert stated: "this is the best thing I've done!". Teaching materials for the song are now available for free on the Creative Multilingualism website in the hope that other schools and community groups will perform We are Children of the World and help spread the joy of multilingualism.