Oxford University was ranked Number One in the world by the Times Higher Education in their 2017 and 2018 rankings.
The QS World University Rankings awarded Oxford Modern Languages a five-star rating for research reputation and graduate employability. Our Modern Languages Faculty was ranked best in the world in 2013, 2014 and 2015. 2017 rankings give Oxford Modern Languages a score of 98%, placing us third in the world behind Harvard (100%) and Cambridge (98.2%), and first in the UK for the reputation of our graduates among employers.
Oxford University was awarded the Gold standard in the UK government's Teaching Excellence Framework, 2017.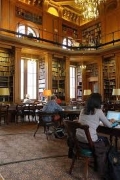 There are 220 million French speakers in the world today, the majority of them outside Europe, and that number is set to rise to over 700 million by 2050. French is one of the most important languages for international relations, business and finance. French, and the francophone cultures of Europe, Africa and the Caribbean, are also some of the richest and most rewarding to study on the planet. French literature spans a thousand years, including such great names as Montaigne, Flaubert and Proust. Studying French also gives you access to philosophical and political thinkers, like René Descartes, Jean-Jacques Rousseau or Simone de Beauvoir, who have fundamentally shaped our modern world and our understanding of ourselves. And it offers you a vibrant contemporary culture, from thought-provoking writers like the Algerian novelist Kamel Daoud to ground-breaking film-directors like Claire Denis.
Oxford's French department is the biggest in Britain, with over thirty permanent members of staff covering all areas and periods of French literature, culture and language, all of whom are international leaders in their field, plus a large contingent of college lecturers, language instructors, and native-speaker lecteurs and lectrices for spoken-language practice. We have an intake of about 200 undergraduate students and 50 graduate students a year. At both undergraduate and graduate levels you will have a Personal Tutor or supervisor responsible for your individual academic progress, and will be taught through lectures, seminars and small-group or individual 'tutorials' that can be tailored to your academic needs and interests.