After an intellectually stimulating Masters year in Modern Languages at Oxford, I felt nothing but enthusiasm about the prospect of taking on doctoral study here. Support from my supervisors has been excellent, conversations with other research students are always forthcoming (and fascinating), and I love the way that the various subdivisions of French (Medieval, Early Modern, and Modern) connect through seminars and events at which we have the opportunity to hear about each other's work, and to present our own.
Amy Steinepreis, DPhil student, Modern Languages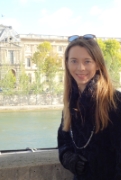 Oxford has one of the largest groups of graduate students in French in Britain. The University has a thriving research culture in French and a lively graduate community to match it. The full range of French Studies is covered both in the one-year Masters course (known as the M.St.) and at doctoral level, reflecting the diverse interests of the members of the French Sub-faculty. Our graduate environment is enhanced by the outstanding research facilities available in the Taylor Institute and other Oxford libraries, the excellent range of seminars and other academic activities in the faculty and at the Maison Française, and the opportunities for training and practice in undergraduate teaching to lay the groundwork for an academic career. At any one time, there is an average of over 50 graduate students in French, of whom 10-15 will be taking the one-year M.St. or two-year M.Phil. courses, and around 40 will be registered for doctoral work. We welcome graduate students from all over the world, not just the UK, or even Europe.
Our M.St. and M.Phil. in Modern Languages offers a wide range of languages with flexible, tailored programmes and various interdisciplinary options such as Comparative Literature, Cultural Studies, European Enlightenment and Medieval Studies. They are suitable for those interested in a single literature or in comparative literature, and can be done in either one or two literatures. It can be a stepping-stone to a doctorate and a research career or a self-contained qualification that is valuable in its own right. It will build on your undergraduate studies, enhance your skills in research, critical thinking and argument, and enable you to produce a substantial piece of original research in your dissertation project. Other Masters programmes involving the Faculty of Modern Languages include Masters in Women's Studies, Film Aesthetics, Medieval Studies, Yiddish Studies and Slavonic Studies, details of all of which can be found in the Graduate Prospectus.
Doctoral students will have the guidance of a supervisor who is an expert in their field, as they research and write a thesis of 80 000 words on an aspect of French literature, film or culture. They will also have the input of two faculty assessors who will monitor their progress at the end of the first and second year of research, and the support of our vibrant research community, which offers regular seminars and workshops on all aspects of our research work, including many events specifically tailored to the needs of graduate students. Details of some current doctoral research projects by Oxford graduate students can be found in the links below.
More Information