Writing backward, living forward
A recently defended thesis from Nicolo Crisafi explores Dante's storytelling
Midway through the Inferno by Dante Alighieri (1265-1321) there is a brief scene that contains the poem in a nutshell. Three damned souls battered by a rain of fire recognise the poet and entreat him to recount their fate if ever he makes it back from his journey through the afterlife:
Però, se campi d'esti luoghi bui
e torni a riveder le belle stelle,
quando ti gioverà dicere "I' fui",
fa che di noi a la gente favelle.
And so, should you escape from these dark haunts,
and go once more to see the lovely stars,
when you, with pleasure, say that "I was there",
then do, we beg you, speak of us to others.
(Inferno XVI, 82-85, trans. R. Kirkpatrick)
In these lines, the plot of the Commedia is sketched out, with its ascending trajectory from the 'dark haunts' of hell (82) to the 'lovely stars' in heaven (83). The poem narrates Dante's otherworldly journey from the pit of Inferno, up the mountain of Purgatorio, and beyond, into the starry heights of Paradiso. It is a beautiful, uplifting and redemptive story, after which Dante is invested with the authority to say, in the past tense, 'I was there' (84)—that is, to write about his experience, and what he learned from it, as a concluded tale.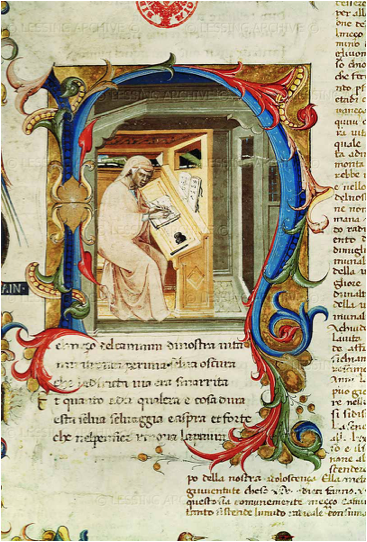 Inferno I, as shown here, does not begin in the 'dark wood', but with Dante's writing about it in retrospect.
Bartolomeo di Fruosino, MS It. 74, BnF, c. 1420-30.
The past tense, which has been the domain of storytellers ever since Homer and his song of,
The wrath which hurl'd to Pluto's gloomy reign
The souls of mighty chiefs untimely slain
(Iliad I, 3-4, trans. A. Pope)
puts narrators in a rare position. It gives them the opportunity to extricate themselves from the messy and unpredictable flow of events that make up our daily lives and to describe it from what looks like a definitive endpoint. Indeed, as a poem about the afterlife, the entire Commedia is founded on the very idea that there is an after-life from which life itself can be finally understood, retrospectively and conclusively. The three damned souls might not be contemplating this greater perspective, but nonetheless they pay tribute to the past tense's power to make sense of the world, as they encourage Dante to take pleasure in his ability to say 'I was there' (84).
And yet, if the three damned souls (and Dante's Commedia with them) are invested in retrospective storytelling, they also point to its limits. The line 'then do, we beg you, speak of us to others' (85) with which the three entreat Dante to become a storyteller depends, in fact, on a hope: 'should you escape from these dark haunts, / and (should you) go once more to see the lovely stars' (82-83). Subtly, subjunctives bring back into the world of the poem the tentativeness and uncertainty of the living, sounding a minor chord in the predominantly major harmonies of past-tense narrative. They raise the questions, 'what if Dante were never to make it back? Who would write the three souls' story then?' In these two lines, Dante expresses poetically something that Søren Kierkegaard would note down in his journal many centuries later:
it is quite true […] that life must be understood backwards. But then one
forgets the other principle: that it must be lived forwards. Which principle, the
more one thinks it through, ends exactly with the thought that temporal life
can never properly be understood precisely because I can at no instant find
complete rest in which to adopt a position: backwards.
(Journals and Papers IV A 164, trans. H. V. Hong and E. H. Hong)
The thesis that I defended at the Faculty of Medieval and Modern Languages of Oxford in Hilary 2018—'Dante's Masterplot and the Alternative Narrative Models in the Commedia'— looks at these and similar passages in Dante's poem. It explores the ways in which the poet lets go of the teleology and authority underlying past-tense narrative, and gives voice to the paradoxes, possible worlds, and open-ended futures that writing backward otherwise mutes. A fiction of definitive endpoints underpins much of the way we tell stories about others and understand our own, but it also has the side effect of concealing the fuzzier side of life: the indeterminacy and open-endedness that comes with living forward.