Professor Carolin Duttlinger Receiving the Oxford SU Teaching Award
16 May 2018
Congratulations to Professor Carolin Duttlinger, who received the Oxford University Student Union award for Outstanding Pastoral Support. The annual Teaching Awards ceremony took place on May 10th, Thursday last week, in the Town Hall and celebrated the achievements of University staff — as determined by the student body.
The criteria for this award included consistent attention to student welfare, shaping the study process in a way that gives a student the best chance to succeed, and recognising that the welfare of students and academic progression are closely linked.
The prize has found a worthy recipient, and we are very happy that the achievements of our colleague are now recognised across the collegiate University.
Professor Duttlinger's main research interests are in the field of twentieth and twenty-first-century German literature, thought and culture. She has worked on such areas as the relationship between literature and photography, the history and theory of perception, literature and memory, the Frankfurt School, and literature and anthropology. Her current book project is a study of attentiveness and distraction in modern German culture. She is available for graduate supervision.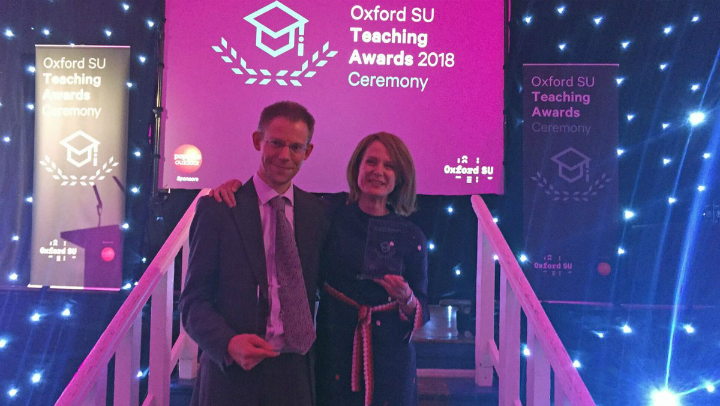 Dr Peter Thonemann ( 'Most Acclaimed Lecturer') and Dr Carolin Duttlinger ('Outstanding Pastoral Support'), winners at the Oxford Student Union Teaching Awards 2018 ceremony. Photograph by Wadham College.