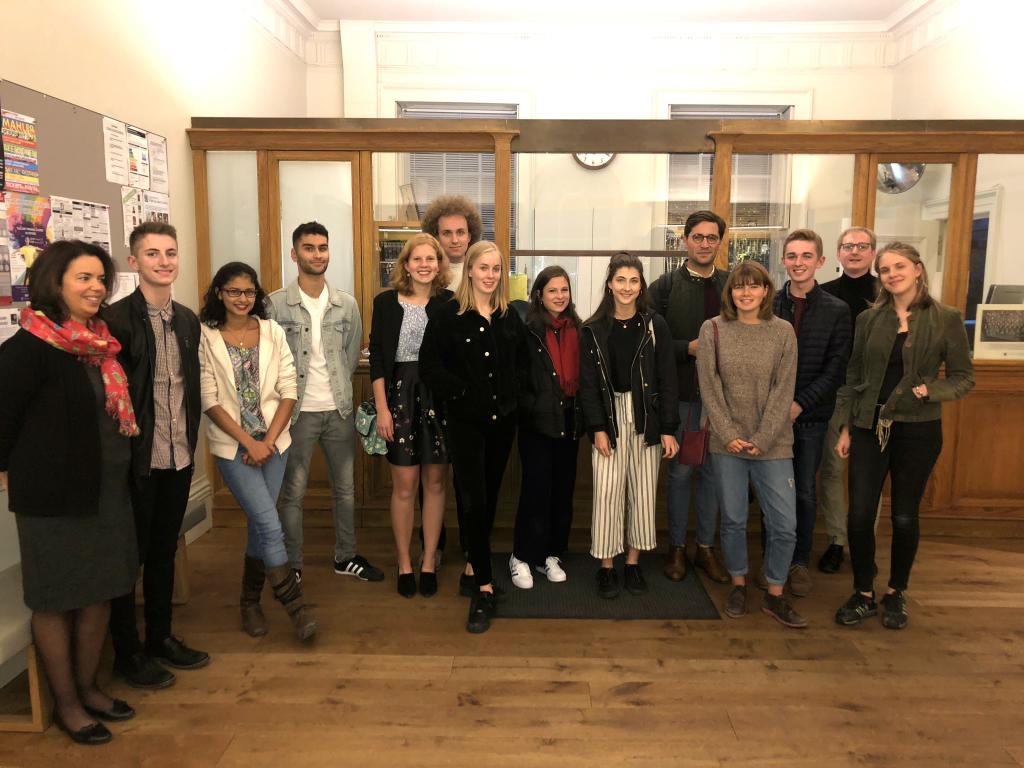 The Portuguese Pre-sessional Course has been running since September 2006, when a generous donation from a former student made it possible. Right from the beginning, the results were positive, according to students, who felt better prepared for the course ahead, and staff, who could take it for granted those learning Portuguese from scratch knew the basics.
Twelve years later, the course is still going strong. The students arrive at St Peter's College on the Sunday of the week prior to Freshers' Week, to meet their classmates and tutors at an informal dinner in a restaurant nearby. Over the years, the venue has changed — for several years our regular spot was the Latin American themed Las Iguanas, where students tried to pronounce delicacies like pão de queijo, moqueca de peixe and xinxim de galinha.
Left to right: moqueca de peixe, a Brazilian fish stew; students from the 2016 Portuguese Pre-sessional course at a get-together dinner.
By Monday morning, the students are eager to start work, feeling a little less daunted having met each other and the staff the night before. Over the years, the language tutors have collaborated to develop a week-long course which provides a rigorous introduction to basic grammar points and language-learning techniques, laying the foundations for the years ahead. We have always made sure that there is exposure to both Brazilian and European Portuguese during this first week of study, and materials are made as relevant and up-to-date as possible. As part of learning about directions and the present tense, depending on the weather, the students sometimes make their way to the Covered Market for a pastel de nata at Browns Café.
Left to right: students from the 2015 Portuguese Pre-sessional course at a get-together dinner; pastel de nata, Portuguese custard tart.  
But it's not all work. In the evenings we organise social events which have included meeting up with the Italian Pre-sessional course, watching films from around the Portuguese-speaking world, going to a café on Cowley Road to hear a reading by a Brazilian author who happened to be visiting Oxford, and the famous wine-tasting.
Lecturer in Portuguese Linguistics, Dr Stephen Parkinson, now retired, used to give a masterclass in Portuguese wine-tasting, introducing the students to wines from all regions of Portugal as well as classic fortified wines like madeira and port, as well as the odd Brazilian red. The list would change every year, depending on where Stephen had been on holiday and at conferences, but always included wines and grapes with names that involved pronunciation challenges (such as nasal vowels), like Pegões, Dão, Villa de Lobos and Gandarada. Tutors and students would vote on their favourite, which was inevitably the most expensive. Dr Simon Park, who was one of the first beneficiaries of the pre-sessional course and is now Lecturer in Renaissance and Medieval Portuguese, has taken on this important role, adding Portuguese snacks and non-alcoholic drinks to the tasting list.
The Pre-sessional creates a strong bond between [students] and a support network, even before their degree proper begins.
The first and last academic activities on the course are grammar tests, which enable the students to see just how much they have learned in the period of one week: their first week at Oxford. Most of them return home for the weekend, before coming back for Freshers' Week in their various colleges across the University. But they come back already knowing their classmates, confident in their basic Portuguese grammar and prepared to get stuck in to the course.
A View of Real Gabinete Português de Leitura (The Royal Portuguese Reading Room) in Rio de Janeiro, Brazil.
For the last few years we have held the End of Year Party in the Fellows' Garden at St Peter's and final year students, about to graduate, remember with saudades* the first time they met each other, and their tutors, and the first week they spent in Oxford. The Pre-sessional creates a strong bond between them and a support network, even before their degree proper begins. In the years following graduation, many of them stay friends in real life and on Facebook. Who would have thought that the Portuguese pre-sessional could produce lifelong Portupals and Portupines?
---
* A unique and untranslatable Portuguese word meaning a combination of nostalgia, longing, missing one's home and/or beloved.
Associate Professor, Brazilian Literature and Culture, MML
Fellow of St. Peter's College
Chair of the Editorial Board of Portuguese Studies (MHRA Journals)