Outreach Event: Meeting with Tees Valley Students
13 Mar 2018
Earlier today members of our Schools Liaison team, together with enthusiastic volunteers, visited Tees Valley (on the border of North Yorkshire and County Durham) to meet local students and speak to them about language study. Students received taster sessions in French, German, Spanish, and Italian and learned about life at the University of Oxford.
This Language Day is part of the larger Outreach programme undertaken by the Faculty to engage with young people in regions that are historically under-represented at Oxford. We encourage talented students across Britain to follow the opportunities and careers opened up by a degree in languages — and we are here to answer any practical questions.
Here is an account of the day as shared by Mayor of Tees Valley Ben Houchen, who attended the Language Day and emphasised the importance of linguistic education and fulfilling one's potential:
Mayor Ben Houchen has spoken to students from across Tees Valley to highlight the importance of aiming high in post-18 education. The speech was delivered during Oxford University's Language Day, hosted at Conyers School in Stockton. The event, run by the university's Faculty of Medieval and Modern Languages, aims to engage students in regions that are historically under-represented at the university and to raise the profile of modern languages as a subject in schools.
Speaking to Year 10, 11 and A-level students, Mayor Houchen underlined that young people have a wealth of options open to them after secondary education, but they must push themselves to be the best they can be.
During the morning sessions, students got the chance to work with representatives from Oxford in lessons on French, German, Spanish and Italian and were able to quiz tutors on life at the university.
Mayor Houchen said: 'We have a wealth of talent in Tees Valley and each and every child, regardless of background, should have the opportunity to fulfil their potential. Young people in this area shouldn't hide their light under a bushel. They must be as ambitious as possible when deciding what to do and where to study for their post-18 education.
'Our region's heritage is one of innovation. More students deciding to get their degrees at any top-level institution, such as Oxford, can ensure that both their and our future is as successful as possible.'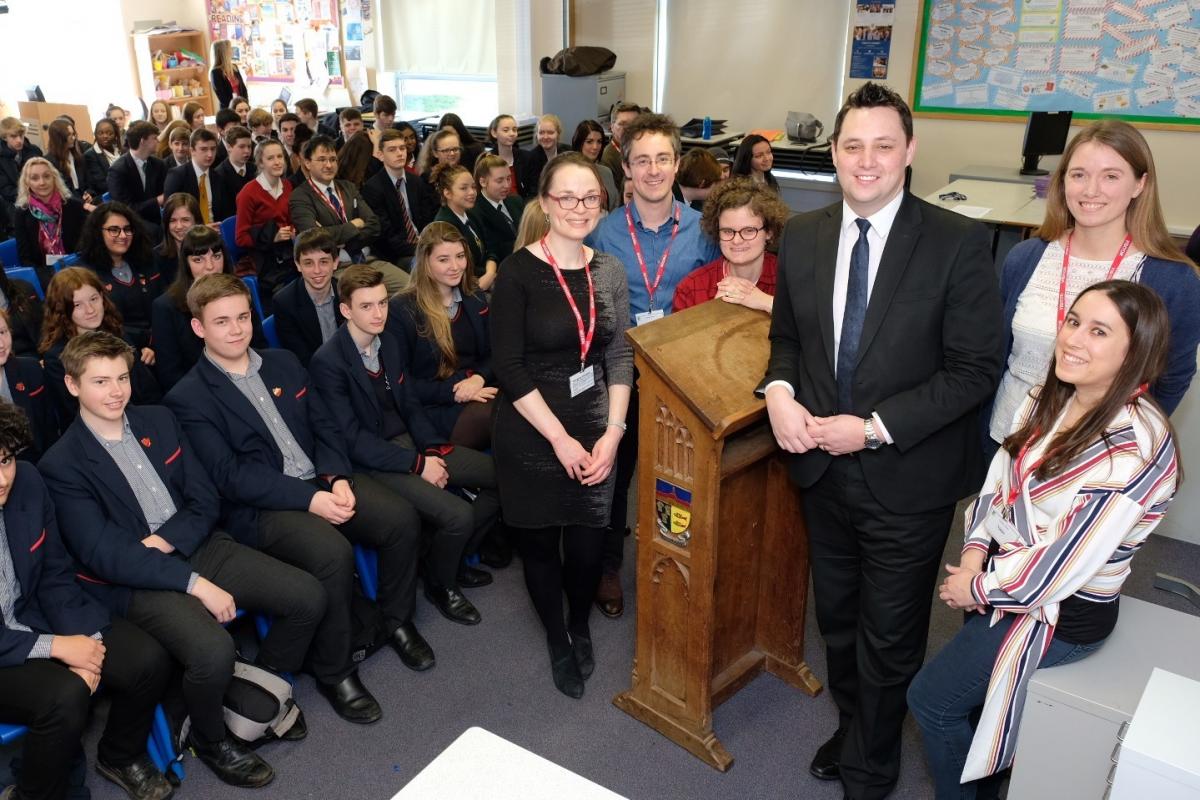 Tees Valley Mayor with Oxford University representatives and language students from local schools
Conyers' Headteacher Louise Spellman said: 'It was fantastic to have Ben, a former Conyers student who has achieved so much, come in and address the students. We want all of our young people to be inspired and make sure nothing holds them back. The event was an amazing opportunity for the students to network and hear about languages at Oxford.'
Natasha Ryan from Oxford University said: 'We know that there is a large pool of talent in the Tees Valley and recognise that we need to do more to attract students from the area. Events such as these allow us to reach out to people who may be unsure of applying to Oxford and give them the support they need to pursue their academic ambitions.
'We are looking forward to working with even more schools in the Tees Valley and elsewhere to emphasise the place of languages in the heart of schools as a nexus for practical skills, personal connections, cognitive development and creativity.'
We are thankful to everyone who helped make this Language Day such a success, and we hope to meet Tees Valley students again — perhaps, during their application process!
If you wish to learn more about our Outreach and Schools Liaison projects, please, see here: http://www.mod-langs.ox.ac.uk/schools. Alternatively, follow @OxMML_Schools on Twitter for timely updates.
---
The header image is a detail of a photograph from the Oxford University's Language Day in Stockton, Tees Valley (2018). © Mayor of Tees Valley / Artist unknown