2023 Brazil Week Report
28 Feb 2023
This year the University of Oxford's Brazil Week focused on the voices of Indigenous people in Brazil. The country's new government has created the first Ministry for Indigenous People and made commitments towards ending deforestation and protecting the environment, hopefully marking a new phase in the recognition of Indigenous rights.
After the success of an almost entirely online programme last year, we organised two events featuring guest speakers from Brazil. However, there were also in person events, including our first translation workshop (in collaboration with Queen's Translation Exchange).
The first event on Monday 6 February was a panel entitled 'Researching Indigeneities' in which two current Masters students presented projects they completed as part of their undergraduate degrees. Hannah Gardiner, who studied Portuguese and Spanish in Oxford and is now doing an MSc in Environmental Governance at the University of Manchester, spoke about the issues involved in publishing Indigenous literature under the category of children's literature. This research was undertaken during her year abroad in Brazil and formed part of her Extended Essay, which was awarded the Modern Language Faculty's inaugural Diversity Prize in 2022.
The second speaker was Jimin Kang, who after completing and undergraduate degree in Spanish and Portuguese at Princeton University, took an MSt in Comparative Literature and Critical Translation in Oxford, where she is currently working towards an MSc in Nature, Society, and Environmental Governance. Her talk discussed her translation, undertaken as part of her undergraduate degree, of Indigenous author Daniel Munduruku's Crônicas de São Paulo [Chronicles of São Paulo] (2001) and Das coisas que aprendi [Things I have learned] (2019). These fascinating talks led to questions about publishing opportunities, problems and strategies, as well as the definition of Indigenous literature.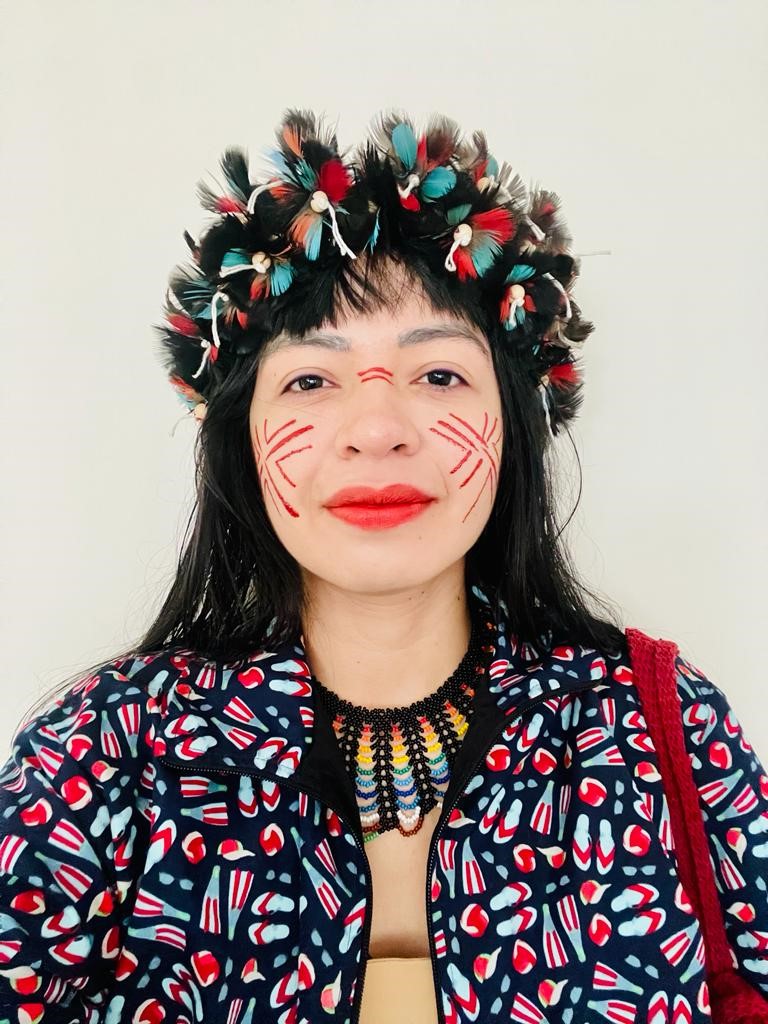 Image: Trudruá Dorrico Macuxi
This panel dovetailed beautifully with an event that took place on Thursday: 'Mapping Indigenous Literature', an online conversation between DPhil student Georgia Nasseh (Wadham) and Trudruá Dorrico Macuxi, a writer and specialist in Indigenous literature. Trudruá joined us online from São Paulo and talked about Indigenous writers' struggles to assert their identity and gain respect as authors, and also against western stereotypes. She described her project to build a database mapping the Indigenous writers from different Nations across Brazil, hosted by the Museu do Índio at the Universidade Federal de Uberlândia.
One recurring feature of Brazil Week is the Interdisciplinary Postgraduate Round Table, this year organised and chaired by a super-efficient team, Aggie Fanning (Lincoln), Andrzej Stuart-Thompson (Jesus) and Vinícius Brunette (St Cross), and held at St Peter's College on Wednesday 8 February. Postgraduate students at different stages in their careers and from across the university had ten minutes in which to present their research projects. The topics ranged from cash transfer programmes during the Covid-19 pandemic and what they can tell us about gender and racial inequalities, to new communication technologies on the transformations of representative democracies; the fire regimes of the Cerrado region to racial consciousness in Brazil under the military dictatorship, showcasing the important research taking place in Oxford.
The participants were: Yuquiao Song, Joana Perrone, Angelo Vasco, Francisco Navarro Rosales, Carlota Segura Garcia, Oliver Thomas, Otavio Catelano and Taynara Leszczynski.
This event was sponsored by the Educa Foundation.
Shortly after the Round Table, Vinícius Brunette hosted an online discussion with leading journalists Natália Viana (co-founder of the news agency Pública) and Brad Haynes (Bureau Chief for Reuters in Brazil). They discussed current affairs in Brazil, focusing on the potential causes and effects of the events of 8th January, when protesters invaded government buildings in Brasília, as well as the tensions between supporters of former president Bolsonaro and newly-elected Lula, and how people are forging new definitions of democracy.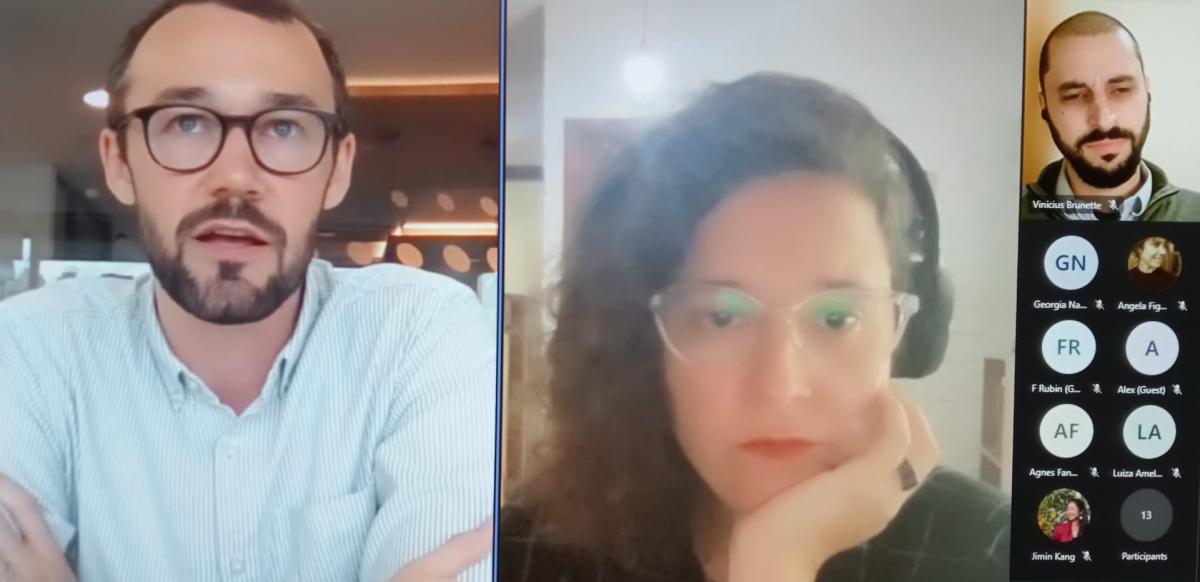 Image: (l-r) Brad Haynes, Natália Viana and Vinícius Brunette
"The talk on the January 8th riots offered a fascinating insight into the state of Brazilian democracy, and the stability of democracy in Latin America more broadly. This is an incredibly important conversation to be having, since we are beginning to see a pattern of distrust in elections emerge among right-wing movements. As a Modern Languages student planning to visit Brazil on my year abroad, I am particularly concerned with the political landscape I will find myself in when I arrive, so I am grateful that the Faculty is offering events that can deepen our understanding of this."
Alex Dunn (Year 1, Trinity College)
To round off Brazil Week there was a Translation Workshop run by experienced freelance translator Rahul Bery, former Translator in Residence at the British Library and regular collaborator with the Queen's Translation Exchange (https://www.queens.ox.ac.uk/research-at-queens/translation-exchange/).
He chose a passage from the novel O som do rugido da onça [The Sound of the Roar of the Jaguar] (2019), by Micheliny Verunschk, who was a wonderful guest speaker at Brazil Week in 2022. The novel follows the fate of two Indigenous children, sold to German explorer scientists in the early nineteenth-century and taken to Munich, and it experiments with different narrative voices. At the workshop, as well as wondering how to render the Indigenous names of various animals into English, we discussed the challenges of finding an appropriate 'creation myth' tone, evoking but not aping biblical discourse, and nodding towards storytelling.
We are so grateful to all the speakers and presenters who took part in Brazil Week 2023, and the students and staff who assisted us. Georgia Nasseh managed registration and online meetings, and designed the beautiful programme. Andrzej Stuart-Thompson designed the call for papers for the Round Table.
We are indebted to the Faculty of Modern Languages for supporting the event.
The Organisers
Claire Williams, Georgia Nasseh, Gui Perdigão and Vinícius Brunette.