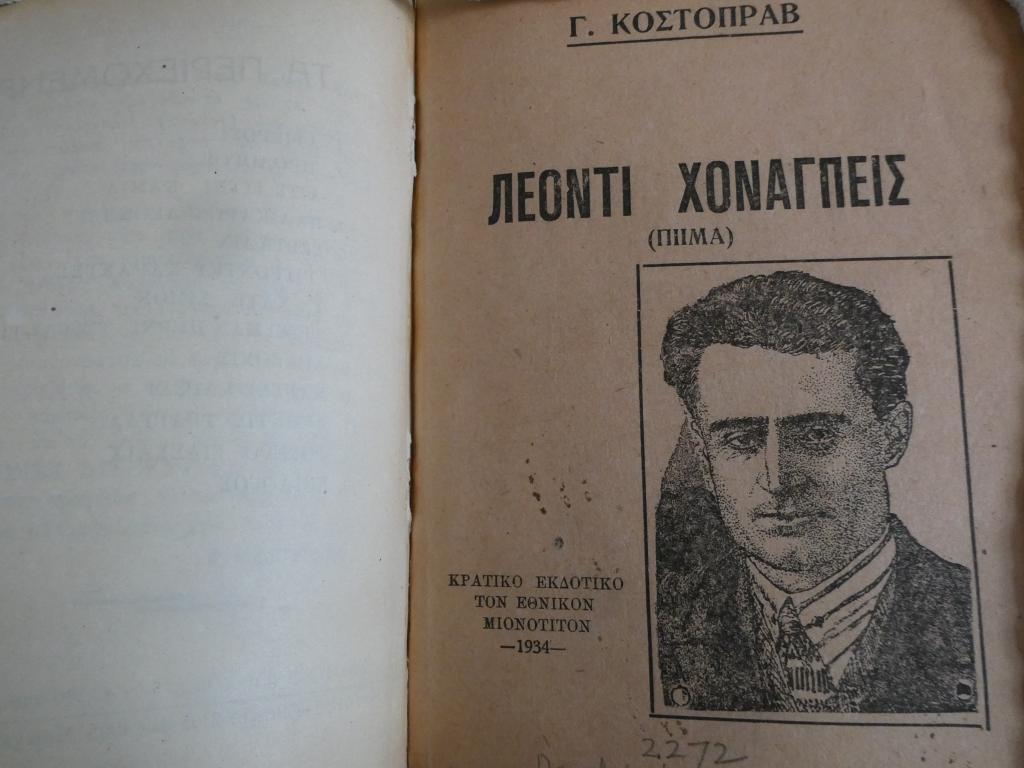 A couple of weeks ago my friend Roger Green, who used to be the Taylorian's Greek cataloguer many years ago, suggested to me that the Taylorian might like to put on a little display of Greek books published in Mariupol in the 1930s. At the bottom of the page I have listed 3 or 4 items based on the SOLO catalogue for those most closely interested. Of the first three items, the first is an anthology of texts by writers in the Soviet Ukraine, the second an issue of a magazine devoted to texts by Soviet Greek writers, and the third a poem by Georgii Kostoprav (see below) about the local poet Leontii Honagbei (1853–1918). I've been unable to locate any of these three items in the catalogue of any other library outside the former USSR with rich Modern Greek collections that I've looked at (Princeton, Harvard, Cambridge, King's College London, National Library of Greece, Gennadius Library).
It is well known that Mariupol was founded by Catherine the Great after Russia had gained lands on the northern coast of the Black Sea from the Ottomans in the war of 1768-74. What is less known is that the first settlers of the new town of Mariupol and its surrounding villagers were Greek Orthodox Christians whom Catherine had moved from Crimea. Some of these were native speakers of Greek, while the rest were Turkish speakers.  
Until a couple of weeks ago, Greek was still being spoken by some of the population of Mariupol and its neighbouring villages. The fascinating Greek dialect spoken there has been studied by my friend and colleague Maxim Kisilier of St Petersburg University. He is devastated by the humanitarian crisis that has been caused by this pointless war, which has ruined the lives of his friends and acquaintances there, but on a scholarly level he is appalled that his research on Mariupol Greek has now suddenly and irrevocably been terminated. 
In the early 1930s the Soviet authorities, in keeping with their policy of nurturing regional cultures, encouraged the writing and publication of Greek books in Ukraine, both in the local dialect and in standard Greek. The Taylorian came to possess a number of these editions, which had been sent to Professor R.M. Dawkins by a Soviet colleague. The leading Greek poet of Ukraine at the time was Georgi Kostoprav (1903-38). He was executed in 1938 and rehabilitated in 1957.
To hear a reading of one of the poems, please register to attend the faculty event on Ukrainian Literature and Culture on 5 May.
There is a Russian-language Wiki article devoted to Kostoprav and a Ukrainian one.
Mariupol Greek is just one of the components that go to make up the incredibly rich linguistic ecology of the lands formerly occupied by the Russian Empire and the Soviet Union. The destruction of its geographical base will inevitably lead to the imminent death of Mariupol Greek. Those who wish to learn more about it may consult here.
Among the Taylor holdings, readers may wish to consult the following Mariupol editions of Kostoprav which we hope to include in a small display in Trinity Term:
Phlogominitres spithes : philologiki silogi : apta kalitera erga ton elinon kalitechnon tis sovietikis Ykranias
Kostoprav, G | Marmarinos, A | Leo, L
1933 | Mariypoli : Ekdotiko ton ethnikon mionotiton - Eliniko tmima / | 117 p. : ill., music ; 20 cm
Leonti Chonagpeis : (piima)
Kostoprav, G
1934 | Mariypoli | 78 p.
Neotita : silogi : apta kalitera erga ton elinon sovietikon singrapheon.
1935 | Mariypoli : Ekdotiko ty Donmpas | 164 p.
There is also a 1969 Kyïv [Dnipro] edition of Kostoprav's poems translated into Ukrainian (only in microfilm; but I include it for completeness).
SOLO also has a record for the following study of the language and culture of the Greeks of the Azov region, with special reference to translations of Chekhov's works into the language:
Glōssa kai politismos tōn Hellēnōn tēs Azophikēs : hē symvolē tōn metaphraseōn sta marioupolitika : hē periptōsē tou A. P. Tsechoph
Pappou-Zouravliova, Aikaterinē
2009 | Thessalonikē : Stamoulēs | 478 p. : ill., maps ; 26 cm
Additional information available via this document.