Visibility Award 3: Making Modern Languages Films Visible
21 Mar 2016
The EHRC committee is pleased to announce the first recipients of the new Visibility Award Scheme for staff and students in Modern Languages. Number 3 up is the project to complement a successful subtitling project with new material. Olgas Malinovskaya writes:
For this project we trawled the archives to pick out little-known but excellent Soviet and Russian films. We then created and added superb-quality English subtitles, making these films available to a large audiences on a dedicated video streaming platform (www.vintagefilmclub.com). Translating these films is a great opportunity for Russian sub-faculty students to improve their grasp of the language. Meanwhile, we will do even more to unravel these films' cultural and historical significance by creating short video introductions by our faculty academics, along with written commentaries. Many of our films are adaptations of Russian classics. Faculty members – the experts on Russian and Soviet literature and culture – are well-placed to supply information that resonates with viewers' experience, and open out the world of Soviet cinema for all to enjoy. Our interactive webpage, featuring a timeline of Russian and Soviet literature, enables the faculty researchers to contribute content, and also increases the visibility of their own research. More than that, our platform has the potential to show-case hidden cinematic gems for other sub-faculties. Bring us your favourite Spanish, French, Italian, German, Polish… classics and we'll help embed them in their cultural context for all to enjoy! To get involved in developing the Vintage Film Club platform, email Olga Malinovskaya or call 07921543270.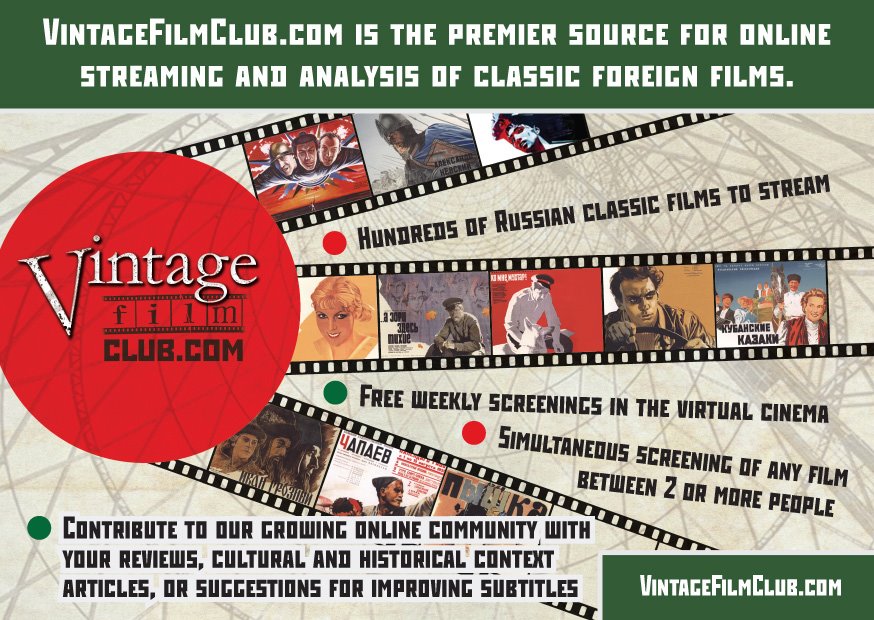 Further information on the EHRC Visibility Challenge is available here.