Alumnus Kieran Hodgson Shortlisted for the Edinburgh Best Comedy Award
24 Aug 2018
Kieran Hodgson, an alumnus of the Faculty, has been shortlisted for the best comedy award at the Edinburgh Fringe Festival 2018. His show '75 is an exploration of the prehistory of Brexit, dating not to the referendum of June 2016, but back to the 1960s and '70s.
Advertised as 'an overambitious hour of history, politics and enduring friendship punctuated by stunningly accurate impressions of dead politicians you've never heard of', '75 has been a success, with the critics especially praising Hodgson's considerable skills as an impersonator.
Enlightening and heartfelt, the show investigates the postwar relationship between Britain and the Continent, Europhilia and Euroscepticism — while paying close attention to Harold Wilson's obsession with sandwiches and to the music of the period. According to the Guardian review, '75 is ' a near-constant hoot, as the Beatles advise Harold Macmillan on his foreign policy, a Labour party civil war is recast as West Side Story, and Charles de Gaulle airport (boom boom) is reincarnated as RuPaul.'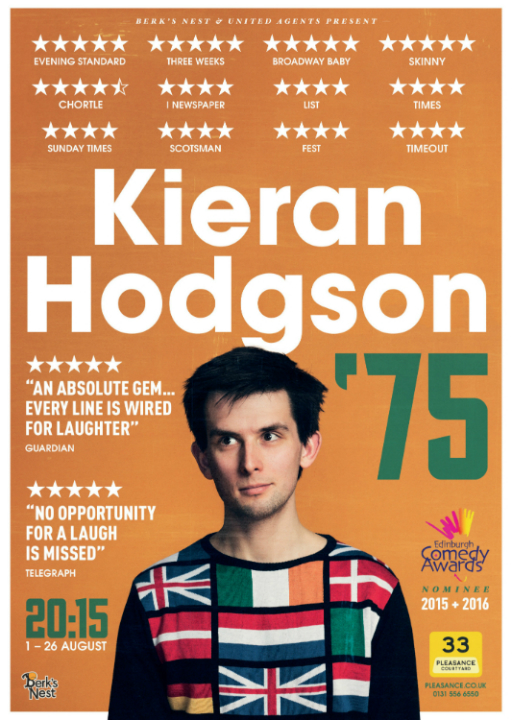 Poster for '75 performed at the Edinburgh Fringe Festival
The show will be running until August 26th, 2018, and further details can be seen on the Pleasance Theatre Trust website. We wish Kieran the best of luck with the performances and with his nomination!
Kieran Hodgson graduated from Balliol College (Oxford) with a first in History and French. His previous shows Lance (2015) and Maestro (2016) have been nominated for the Edinburgh comedy award in the respective years. His most recent show '75 can be seen in the Pleasance Courtyard (Edinburgh) this weekend.