Dr Imogen Choi Awarded the AHGBI Thesis Prize 2017-2018
29 May 2018
We are pleased to announce that Dr Imogen Choi, Associate Professor in Spanish Golden Age Literature and Exeter College Fellow in Spanish, has been awarded the prestigious AHGBI and Spanish Embassy Publication Prize for 2017-18.
Awarded jointly by the Association of Hispanists of Great Britain and Ireland (AHGBI) and the Spanish Embassy, this annual prize is given to two doctoral theses representing the best research in Hispanic and Portuguese Studies at the national level. 'Conflict Ethics and Political Thought in Early Peruvian Epic' written by Dr Choi has received the award alongside 'Queer Genealogies in Transnational Barcelona: Maria-Mercè Marçal, Cristina Peri Rossi, and Flavia Company' by Dr Natasha Tanna (Cambridge).
The award-winning thesis by Dr Imogen Choi is scheduled to be published by Tamesis Books in 2019. To find out more about Dr Choi's research, please, see here.
Our congratulations also to Dr Elizabeth Bolorinos Allard (Magdalen College Fellow in Spanish), who has been awarded the runner-up AHGBI prize for her thesis 'My Enemy or My Brother? Spanish Representations of Muslim and Jewish Culture during the Colonial Campaigns in Morocco, 1909-1927'.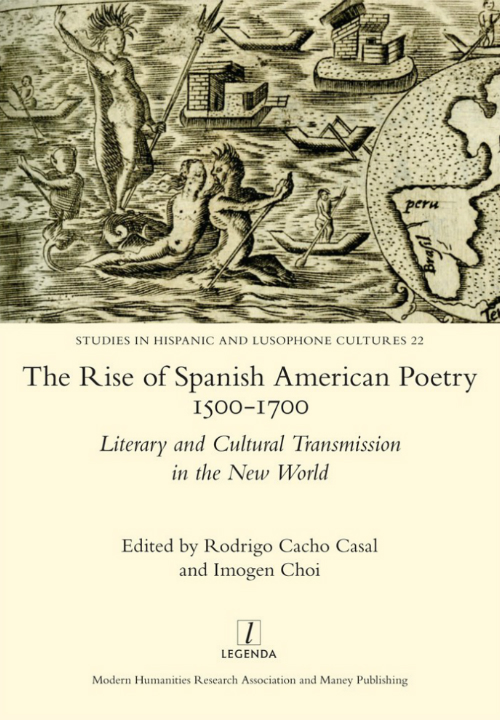 The Rise of Spanish American Poetry 1500-1700 — a forthcoming publication by Legenda, co-edited by Dr Imogen Choi