Master's students succeed in the British Comparative Literature Association's essay competition
7 Oct 2021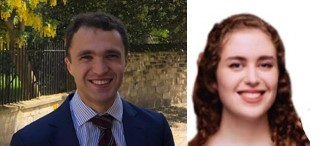 The British Comparative Literature Association (BCLA) has announced the winners of the 2021 Arthur Terry Postgraduate Essay Prize for an essay on a comparative topic written by a master's student. Both winners have just graduated with an MSt degree in Modern Languages from Oxford. 
1st prize was awarded to Benjamin Owen (Queen's College) for his essay 'Stateless Literatures: Writing Globally from the "Margins" of Western Europe'.
2nd prize was awared to Tara Kilcoyne (Lincoln College) for her essay 'Ce que l'épidemie nous apprend de la littérature: World Literature in a Global Pandemic'.
Ben and Tara join Clio-Ragna Takas, now a PhD candidate in Comparative Literature at Harvard, who won the 2020 Arthur Terry Prize for her essay 'Renaissance World Makers: World-Desire Before Goethe', written during her MSt year at Oxford (St Cross College). 
All three students received their prizes for essays submitted for the MSt Method Option 'Spaces of Comparison', which has been convened by Dr Karolina Watroba (All Souls College) since 2019. Dr Watroba commented: 'It is very rewarding to see students engage with the material we cover in our seminars and find their own original approaches to the study of comparative literature. Clio, Ben, and Tara all had their studies disrupted by the pandemic, but somehow they still managed to produce brilliant essays — and one of them even draws imaginative links between the pandemic and the study of world literature!'
All three prize-winning essays have been published on the BCLA website and can be read here.